Getting there...
Posted by

Namani

on

Tuesday, 6 March 2012
305nm to go to the Galapagos
1° 51' 45.6" N, 85° 15' 37.2" W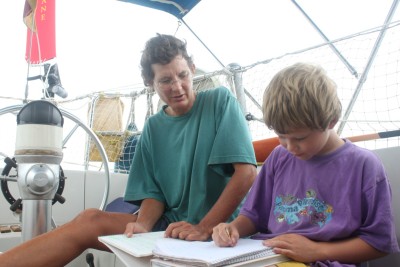 At about 0630 yesterday (Mon, 05MAR) morning some steady wind out of S...SE set in at 7-12kn. We had a beautiful sail, close reaching at ~5kn over the entire day with the Hydrovane steering happily and Namani clocking away the miles. The wind died again in the evening but around midnight a light breeze has set in again, allowing us to resume our slow drift at 2.5kn. We've now dropped below 2°N and will soon break the "300nm to go" mark. We now have a steady cloud cover during the day, but with very little vertical development. Also, the clouds seem to fall apart after sunset, despite the warm surface temperatures of the water. Very different so far from the typical squally conditions during our Atlantic crossing 4 1/2 years ago. Some more dolphin company today. A nice and relaxing day overall. All is well aboard, stay tuned...
PS: Picture above shows Nicky today in "Boat School"