Getting ahead
Posted by

Namani

on

Tuesday, 2 October 2012
en route from Niue to Neiafu, Vava'u Group/Tonga
18° 44' 1.2" S, 173° 37' 16.8" W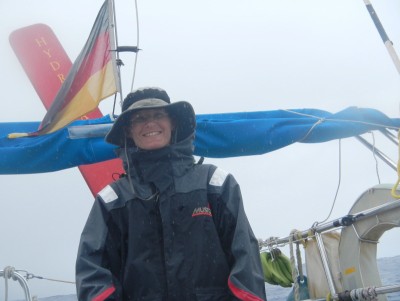 We're about 20nm off the northern end of Vava'u in Tonga, with a further 15nm to go after that to reach the harbor in Neiafu. We know it's currently 8am local time but we're not sure whether it's Tuesday, 02OCT or Wednesdy 03OCT at our current position. Tonga will be our first stop "behind" the international dateline. So after having "retarded" our clocks again and again, from utc-4 (daylight savings time on the US East Coast last summer) to utc-11 (Niue), we'll now be leap-frogging ahead to utc+13 and lose a day in the process. Tonga used to be on the "slow on utc" side of the dateline in the same time zone as Niue. However, a few years ago local royalty apparently decided that thier country should be the first to great each new day. So they snug over to the other side and now have that quirky "utc+13" time zone...
Had to motor for a few hours yesterday morning but then the wind set in again and we've made good progress since then. Constant light rain which is forecast for another few days before this offspring of the SPCZ (Southern Pacific Convergence Zone) is replaced by a high to the south again. By and by we're getting used to the weather patterns in this region. We just had the wind backing suddenly by 90 degrees with no sign of a frontal passage - just grey sky everywhere and same low wind speed at about 10-12kn. Must be a very flat trough? Interesting...
All is well aboard, stay tuned ...