Engine Update
Posted by

Namani

on

Wednesday, 28 May 2008
16° 58' 60" N, 61° 42' 54" W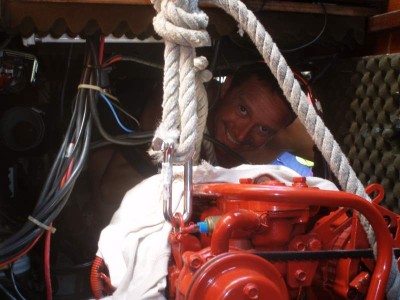 Just a quick update... Eric, the long awaited mechanic, was here on Monday (yes, he did indeed come out on Memorial Day!) and took off our diesel injection pump. Even with the pump and its counterparts in the engine in full view, we could not come up with any diagnosis that would explain all the different phenomena/strange engine behaviors we experienced on our way here. What seemed particularly puzzling was that our prime suspect, the control rack that the stop solenoid engages with, was not stuck but moved rather freely after we had full access to it. Hence it was decided to take the pump to an injection shop for a closer look. The shop's diagnosis after full disassembly of the pump: 3 of 4 plunger springs were disintegrating due to corrosion - a bit of a (nasty) surprise. On the positive side this does explain all of the engine's behavior in the recent past and makes a plausible root cause for all evil. Unfortunately, it also means we will only get the overhauled pump back on Friday or Saturday, so no departure before the weekend...
On the plus side again this gave us a chance to go to Sea World today where especially the Orca whale show was quite an experience (not only for Nicky). We can also make a few more fixes which we had originally saved for Maine: Fixing a very slow oil leak from the engine's raw-water pump, adding additional 1/2" spacers to the engine mounts (since I had to move the engine off its mounts for injection pump access anyway), installing AIS, ...
We're still optimistic that we will in fact leave here eventually ;-) To be fair: It's a convenient spot to be stuck in, with a very nice and friendly live-aboard community around us. Stay tuned for further updates...