Cruisers and Racers
Posted by

Namani

on

Sunday, 29 December 2013
Sugarloaf Bay, Middle Harbour
33° 47' 42" S, 151° 13' 30" E
Cruising along the Australian East Coast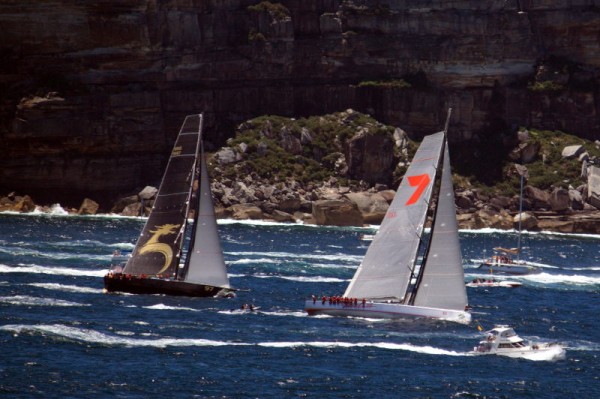 We had an exciting morning a few days ago, watching the start of the Sydney Hobart yacht race on Boxing Day. We went up to South Head from where we could see the boats come up the Harbour channel from the starting line, and then round the corner into the Tasman Sea for the 630nm race to the southern end of Tasmania. The picture above shows Wild Oats XI, followed by Perpetual Loyal, as they sail between North and South Head (Wild Oats has by now taken line honors for the 7th time, the overall handicap winner is still open, with the smaller boats still racing).
While the start on Thursday was under sunny skies and a steady SE breeze, the pre-race forecast had the boats sail into 40-60kn headwinds and seas to match by Sunday morning, as a front was expected to pass across Tasmania and the Bass Strait. Having spent the past 2.5 years trying very hard to avoid bad weather at sea it seemed very odd (and perhaps positively insane) that anyone would choose to sail into these conditions "for fun". Perhaps that's the difference between cruisers and racers... Actual conditions apparently weren't quite as bad as forecast, but still sufficient for one dismasting, a couple of lost rudders, a broken leg, and some other damage among the fleet.
On other news we have been spoiled by the hospitality of friends here in Sydney. Jack and Lee, Jez and Tab and their families - a big and hearty "thank you" from the three of us! We'll head back into Sydney Harbour tomorrow morning to find a spot from which to watch the New Year's Eve fireworks. Update to follow...