Off the chart
Posted by

Namani

on

Thursday, 25 October 2012
anchored off Oua Island, Ha'pai Group, Tonga
20° 2' 47.4" S, 174° 40' 55.8" W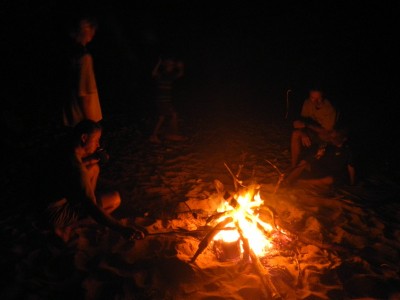 Two "firsts" for Namani: The first time Namani is below 20 degrees south lattitude and the first time we're anchored in a place where our chart only shows a solid reef. We're in a perfectly sheltered little nook inside the reef that surrounds Oua Island - the access to which is mentioned in an old sailing guide to Tonga's Ha'pai Group and which is clearly visible and easy to navigate once you're there.
We had a beautiful evening yesterday at Luangahu Island, together with Victoria: dinner at a driftwood fire on the beach on our private little island, the three boys baking "bread on a stick" over the fire, and everyone enjoying the moment. Today we needed to move though, as the weather is changing, with a weak low and associated front/trough approaching from the west. The wind has already started to turn from the east to the north and is forecast to go through NW-W-SW-S over the coming 2-3 days before returning to the prevailing easterlies. So we moved 20nm south to one of the few anchorages with decent shelter from the west in the Ha'pai Group. Shortly after we had dropped anchor here, Santa Paz, a Brazilian boat we had met in Suwarrow, entered the little lagoon here and we had a nice reunion this afternoon with Sandra, Lucas and their daughters Julie and Clara. We hope to re-connect with Victoria in a few days time (they had stopped at another island along the way).
We really enjoy the sailing here in the Ha'pai Group, which provides a nice contrast to the very compact Vava'u Group further north. Islands are more spread out with nice stretches of unspoiled wind and sailing between them. Also, a much lower density of boats: No charter base, everything is spread across a much larger area and many boats pass through here relatively quickly on their way to Tongatapu, the main island further south. Based on the current weather outlook there will not be a decent window for heading down to Minerva Reef and on to New Zealand before early November. Good for us as it gives us a few more days to enjoy the islands up here. All is well aboard, stay tuned...