Carolina on our mind...
Posted by

Namani

on

Monday, 9 June 2008
Beaufort Docks, North Carolina
16° 58' 60" N, 61° 42' 54" W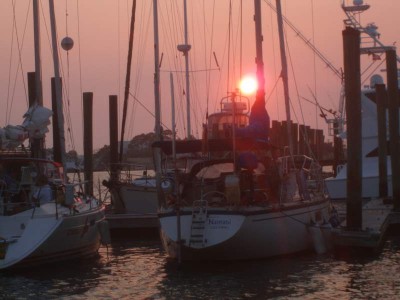 We kept our options open until this morning 0630h (30 nm south of Beaufort) but then the latest weather forecast made us pull into Beaufort rather than continuing around Cape Hatteras (we would likely have encountered 15+ kn NE winds just north of the Cape, blowing against a still fast running Gulf Stream- apparently something you don't sail into for pleasure). So here we are, tied to the Town Dock at beautiful Beaufort - a very worthwhile place to visit with an interesting history.
On the way here we made our fastest passage to date with 500 nm in just 3 days (360 nm in the first 2 days - fast by Namani standards at least) - amazing what the Gulf Stream can do when you can ride it!
Since there likely won't be a weather window to sail around the eastern side of Cape Hatteras until next week we'll continue via the Intracoastal Waterway between here and Norfolk, VA. From there it's a relatively short 450 nm to Newport... we'll get there...
Going via the ICW wasn't in the original plan but may give us a chance to catch up with Arearea who were moored 5 hrs north of here this morning.
We realized today that we overlooked one crucial bit in our planning - the fact the Europameisterschaft (European Soccer Championship) is already on while we're still under way! Oh well... we'll just have to paint some part of the boat black-red-gold for the occasion...