Bora Bora
Posted by

Namani

on

Thursday, 16 August 2012
Anchored off the motu on the SE corner of Bora Bora
16° 31' 59.4" S, 151° 42' 19.8" W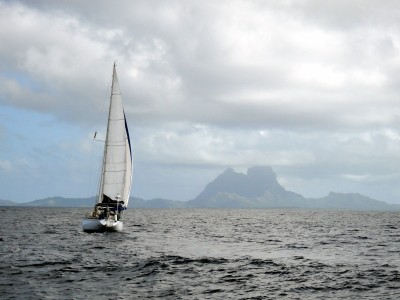 After one night at the Tahaa Coral Garden we moved on with the rest of "the fleet" towards Bora Bora early on Wednesday morning. We've have now been anchored here behind a motu at the SE corner of the island in 3m of crystal clear turquoise water . While Bora Bora seems quite "developed" due to tourism, it's still a stunning sight and location (picture of the anchorage to follow when we have internet again).
When we arrived, Heike, Kai, Hannes and Niclas on Victoria were still here, which brought the children count up to 10 for one night. They have moved on to Maupiti by now, so we're back to 8 kids between the boats here, still a lot of fun.
The sail over here was quite nice after a little bit of wind had set in early in the morning. We had a fun photo shooting with Topaze while sailing in front of Bora Bora - more pictures to follow. We then spent 45 min circling in Bora Bora's main harbor on the west side if the island because we needed a decent wifi connection to upload some high resolution pictures for an article that Nana had submitted - giving new meaning to the term "mobile internet"... Navigating the channel inside the lagoon around the island to the anchorage on the SE side turned out to be easier than expected. While it's quite narrow at some points, with some zig-zagging required, it's very well marked and easy to navigate - at least for a small monohull like us.
Now we hope to enjoy a bit of downtime here, after the island hopping in the first half of the week. If the weather cooperates we'll make Maupiti our last stop in French Polynesia, before moving on to either Suwarrow or Niue on the way to Tonga. Stay tuned...