A beautiful breezy spot
Posted by

Namani

on

Monday, 21 October 2013
Anchored off Ilot Mbe Kouen
22° 16' 0" S, 166° 13' 0" E
Cruising in New Caledonia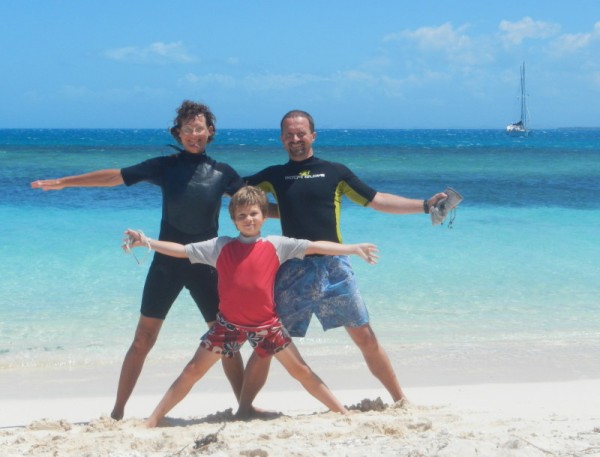 A quick hello from Ilot Mbe Kouen, a little motu 12nm WNW of Noumea, just inside the main island's outer reef. We've come here after Nanas mother left last week and after a very nice dinner with Caroline, Christoph and their girls aboard Topaze. We've had a very nice two weeks while Nana's mother visited, with some in-land excursions and a day trip to the Isle des Pins (we just can't get enough of it...). More on those excursions later, when we have an internet connection again and can post some pictures.
Our little spot here is beautiful and we enjoy our last few days in the tropics. We're tracking the weather forecasts for a window to sail on to Australia, possibly early next week. Right now we have a very persistent high sitting south of us and some broad "troughy" low pressure in SPCZ north of us, making for some string strong tradewinds in our neighborhood with largely blue skies. The wind regularly picks up to a steady 25-30kn in the afternoon and then drops down to around 15kn during the night before picking up the pace again the next morning. As consequence we have lots of wind and solar power - more than we can actually use... a rare experience for us ;-)
All is well aboard, stay tuned...