Back Home
Posted by

Namani

on

Sunday, 8 July 2012
17° 34' 60" S, 149° 36' 0" W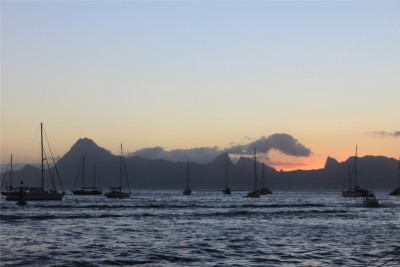 We are now into the first week of July and still in Tahiti. Time flies!
Sadly, things did not go as expected with our planned visit to Germany, as Markus' father passed away unexpectedly. Therefore we all flew to Germany for the funeral and Markus extended his stay there to attend to his parents' affairs. A melancholy and strange time with our family separated by more than just miles. In speaking to other cruisers here, we discovered how many others have turned similar sad milestones while far away from home; is there any good time to go cruising? A question without an easy answer.
Now we are all back at home on Namani and busy taking care of the wear and tear items that have accumulated over the last several thousand miles. One of two big items is the rigging, which we decided to replace entirely rather than put off until we reach New Zealand. Several shrouds were unraveling and making us wonder how much the twelve year old rigging still had in it. The second big job is repairing the anchor windlass which gave up the ghost back in the Marquesas (and before that, in Panama). So we are dockside in a marina until those two projects are completed.
The good news is that this coincides with the annual Heiva festival on Tahiti so we have splurged on tickets to the song and dance competition for tonight, and other events are running throughout the week. This also gives several of our friends on other boats the chance to catch up with us since they spent a longer time in the Tuamotus than we could. We are especially looking forward to seeing our friends aboard Topaze soon, as well as completing our SCUBA course with Helena of Merilelu. Meanwhile Nicky continues his school lessons with outings to a nearby park to play soccer daily.
Tahiti is a nice enough island but it seems that the superlative views we see in the media all come from the other islands - so we are keen to get there as soon as possible! It will be great to be swinging quietly at anchor again and swap the tools for snorkel gear!