Back on Hiva Oa
Posted by

Namani

on

Thursday, 10 May 2012
9° 49' 0" S, 139° 1' 0" W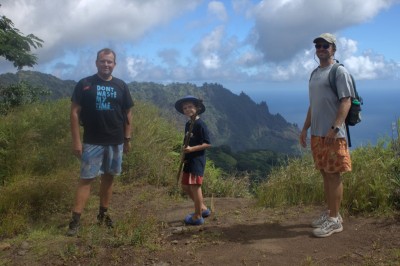 We're back in Hiva Oa now, after a beautiful four days on Fatu Hiva. On Monday (07MAY) we hiked to Omoa, the second village on Fatu Hiva, a bit south of Hanavave on the island's western shore. Over ~17km and five hours the hike took us up (and later down) approx. 900m. After four weeks on passage without much "weight bearing exercise" our legs expressed some surprise at the sudden surge in activity (see picture above...). Nevertheless, it was a beautiful walk across the island, with stunning views and fascinating changes in vegetation. Omoa appears to be the more developed of the two villages (2 stores with basic groceries and a post office) and the gardens and houses look even neater than in Hanavave. For our return trip we had luckily arranged to be picked up by dinghy. What had taken us five hours across the mountains was a 20 min boat ride on the way back. The picture below shows the approach to the anchorage back at Hanavave.
On Monday night we then had a fabulous dinner at the house of Desireé and Jacques in Hanavave. We had stopped at their house the day before when we bought a carved wooden mask from Jacques and they offered to cook a meal of fish, goat, pork and chicken in a fire pit behind their house. At the equivalent of approx. US$20 per head not exactly cheap (although well within the local price range) but well worth the experience. Together with six other cruisers we had a really enjoyable evening with some great (raw tuna in a coconut based sauce) and some interesting (grilled frigate bird) tastes... Desireé's lively explanations added to the fun (Jomique had already been subjected to 90 min speech on local politics the day before...). Thanks again, to Jacques and Desireé for their hospitality and a truly memorable evening!
Tuesday had us head back to Hiva Oa then, from where Jomique had to fly out the next morning on his long journey back to the Fatherland. The weather cooperated this time and we had nice and fast sail, close and beam reaching over very moderate seas. Thanks to Jomique for visiting - we had a great time with you aboard Namani!
Now we will re-provision here in Hiva Oa, visit the Gaugain museum, take a tour of the island, and then head out to explore the rest of the Marquesas. The anchorage at Hiva Oa is a lot busier now than during our first arrival and it's been fun to re-connect with some of the boats we had met along the way (including Vulcan Spirit whom we last saw in Cape May, New Jersey!). Stay tuned...