Back to Civilization
Posted by

Namani

on

Wednesday, 21 December 2011
9° 33' 18.6" N, 79° 39' 33" W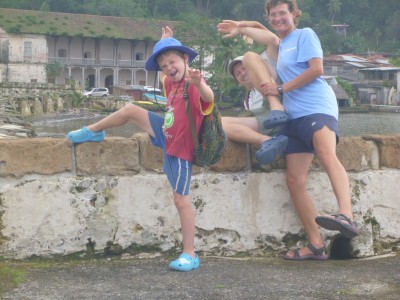 We weighed anchor in Porvenir yesterday (20DEC) at daybreak, after checking out of the San Blas Islands there the day before. A fast (by our standards) 55nm later we dropped the hook in Portobelo, about 20nm NE of Colon. We had originally planned to stay in the San Blas a few days longer, but with seas building across the entire Caribbean and us slowly running out of supplies, yesterday seemed like the right day to move.
Portobelo was the harbor the Spanish used in the 17th century to load the gold they had brought up from South America on the Pacific side and then trecked across Panama onto ships bound for Spain. The old "Counting House" that controlled and logged the flow of gold back then is still standing here. Apparently, for almost one century one third of the world's gold moved though this harbor. Otherwise, Portobello is a sleepy little town with some backpackers and cruisers. To us it almost feels like a big city after having been "out of it" since we left Jamaica at the end of November. We even took the bus to the supermarket in Sabanitas today (about 1 hour away) to replenish our food stores. We will stay here over the holidays and then hope to make it to Colon by the end of December to have Namani measured for the Canal transit.
Having grown up in Europe I have never really appreciated how big a deal the Panama Canal was when it was first built. The effort and number of lives lost in during the multiple attempts to cut the Canal through dense and hilly rainforest is just mind-boggling. It's interesting to now see the reminders here of how the Spanish struggled to get their exploits across Panama on land (in order to avoid the alternative sea route around Cape Horn - which they had to use again after the English destroyed Portobelo). All the more curious now to actually go though the Canal now...
We'll probably get internet access somewhere in Portobello, so we can finally post some pictures again over the next few days...