At anchor again - at last
Posted by

Namani

on

Sunday, 29 July 2012
Anchored in Opunohu Bay. Moorea, French Polynesia
17° 29' 30" S, 149° 51' 12" W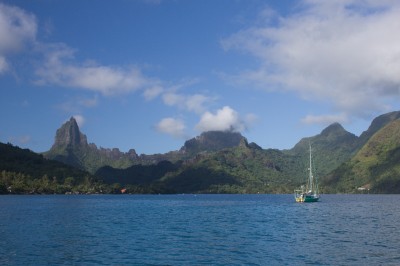 After returning from yet another trip back to Germany Thursday night (something for another post), we finally slipped our lines today (Saturday) and left Marina Tahina on Tahiti at 11:30h this morning. It was just a short hop over to Moorea (mostly on a nice beam reach) and we dropped the hook here before 17:00h. Sailors and ships rot in harbor they say, and after six weeks at the dock (four of which we spent travelling back and forth to the fatherland) it was a nice way to ease back into cruising and slowly regain our sea legs. No major SNAFUs so far - we still managed to point the boat the right way and to get those big white clothy things up and down.
On our last day in Tahiti we were very happy to reconnect with Topaze. They'll be sailing with family for two weeks and we hope to cross paths again in Raiatea after that. We also saw Mel, Paul and the boys from Samba again whom we'll hopefully meet up here in Moorea in a few days.
Despite being very happy to finally being off sailing again, we're very grateful to Tahiti. We couldn't have done what we needed to do over the past weeks from any other place within a few thousand miles and not without the help from the very friendly staff at Marina Tahina and the other cruisers around there. Did I mention that Namani also got new standing rigging in Tahiti?
Now we're looking forward to re-connecting with Helena and Kari from Merilelu tomorrow - they're anchored across the channel on the other side of the bay.