Off again
Posted by

Namani

on

Thursday, 15 November 2012
Under way from Minerva Reef to Opua, NZ
24° 30' 0" S, 179° 55' 60" W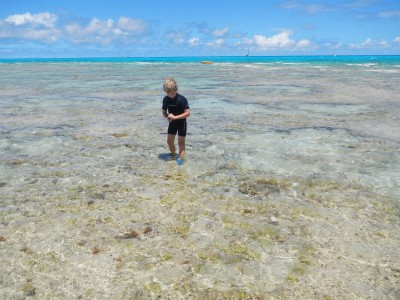 We weighed anchor at North Minerva shortly after 0900 local time this morning (Thursday) and are now under way again for the final 800nm to Opua in New Zealand. Conditions are very pleasant and we had a nice sailing day, close reaching at 5-6kn over very moderate seas. Now the wind is dropping a bit as we are slowly sailing into a high pressure ridge which we can hopefully cross without too much motoring. Based on the current weather forecast we plan to reach 30S sometime during Monday night. If things go well we could then ride the backside of a high to the E of NZ's North Island (the "Swedish High" - stuff for another post...) for the last 300nm into the Bay of Islands before the next front approaches. There are vast amounts of pumice floating over a big stretch of ocean here (recent volcanic eruption in Tonga) which we can hopefully keep out of the engine cooling circuit if we have to run it during the next few days.
We're glad we got to stop at Minerva, walk on the reef there and watch the solar eclipse from inside the reef (about 300nm short of the path of totality but we still got what looked like a 70% eclipse (solar panel output dropped accordingly from 8 amps to 2 amps).
All is well aboard, stay tuned...
PS: About 60nm west of our current position a sailboat had been abandoned during the tropical storm last week (crew was rescued by NZ navy and assisted by Bruce and Marcelle on Adventure Bound who heroicaly turned back from 50nm further south when receiving the distress call). We heard today on the SSB that for whatever strange reason the yacht has not been scuttled but is still floating with the rig standing. Should not impact us but causes a problem for boats under way froim Fiji to NZ as the prevailing NW setting current and SE winds will have the boat drift right into their path. We don't understand why the boat was left floating, creating a hazard to navigation. There's enough traffic with crewed yachts currently underway...