160 nm to go...
Posted by

Namani

on

Thursday, 19 June 2008
70 nm East of New Jersey - 39-37N 072-33W
37° 41' 6" N, 74° 51' 18" W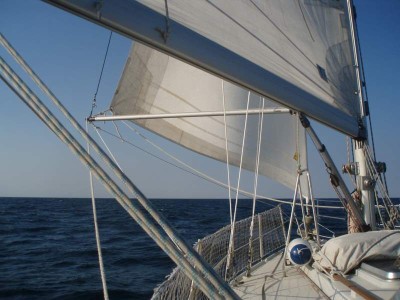 .. to the Cape Cod Canal, where we will make a stop to pick up Ralf (the "other Ralf" - Boeck this time) who will join us for the last short leg to Peaks Island, Maine (also, Nana's mother will make a short visit up from New York to see her grand son). After beating to windward during our first night out of the Chesapeake Bay we had to motor part of yesterday in very light winds. Yesterday evening it picked up again and we were sailing on a nice broad reach and the down-wind before a lightning storm passed over us between midnight and 0300 and forced us to run with it off our course for a few hours. Now (1200 on 19JUN) the wind has died down again and we had to raise our red "Beta Sail" again (i.e. start our Beta Marine engine).
It's quite amazing how sharply the air temperature appears to have dropped once we were north of the Chesapeake Bay. While the sun is still pretty strong during the day, the air definitely feels much cooler and we've dug out the warm sleeping bags for the nights again. Step 1 in our slow acclimatization back to live outside the tropics...